It may be shocking, but this is the first year that ARM will be at
SXSW-Interactive (SXSWi)
2011 in Austin, Tx. ARM is bringing our unique position and view of the industry (over 800
ARM.Connected Community
Partners collaborating and innovating with ARM) to two great events: a Core Conversation on Mobile Payments and a fun Party/Smart Mobile Device Showcase.
Mobile Payments: My Smartphone Just Bought My Beer!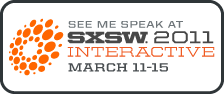 ARM's own Tom Lantzsch and Vickie Nauman from
7Digital
are leading a discussion on
mobile payments
in one of the SXSWi Core Conversation.
Are you curious about where mobile payments might be moving to in the future and what makes them secure? Making secure payments a reality on mobile devices relies on a complex dance between chip makers, device manufacturers, software developers, content developers, carriers and the banking industry. How is technology and the industry moving forward to ensure consumers can rely on their mobile devices as their mobile pocketbook, and how will these changes shape consumer behavior and content consumption? To find out more, come to our Core Conversation on
Sunday March 13th at 5pm
.
ARM Party & Smart Mobile Device Showcase
Date:
Monday March 14
th
Time:
6pm
Location:
The Hangar Lounge (
318 Colorado St.
)
That's right ARM will be hosting an Official SXSWi Party for attendees of the SXSWi conference. Our party will feature a
smart mobile device
showcase ranging from the latest
smartphones
to
tablets
presented by
Freescale
,
Marvell
,
Texas Instruments
and
Chaotic Moon Studios
. You won't want to miss
MasterImage 3D
showing its glasses-free (autostereoscopic) 3D displays
for smartphones and tablets and the chance to play
Xbox 360 with Kinect
that's uses your hands and voice as the controllers. You can enjoy free food and drinks while browsing the live demos of the smart mobile device showcase. Don't forget to drop your raffle ticket at the door for a chance to win an
iPad,
Amazon Kindle eReader, Nookcolor eReader and Kinect for Xbox 360
to be given away at the end of the party, to
four
very lucky winners.
Want to know more about ARM and ARM Partners?
As a semiconductor company our engineers develop some of the latest and greatest technologies that power and enable smart devices of today and tomorrow. With over 800 ARM Connected Community Partners the collaboration and innovation is unrivaled. Our partners have shipped well over 20 Billion
ARM processors
enabling some your favorite devices. While ARM is well known for its foothold in the
mobile phone
industry, you can find ARM IP in the entertainment system in your car, your wash machine, your blue tooth headset, your tablet and much much more.
Follow the ARM blogs and Twitters to find out more and get the latest news and updates about ARM and our Partners.
Katie Morgan, Digital Marketing Lead, ARM,
was thrown into the fast paced and exciting world of technology in 2007. She has now fully transformed into a technology enthusiast that always has at least her smartphone in hand, mini laptop and (now adding to the list) tablet at her side. Exploring the ever-evolving digital and social media outlets of Web 2.0 (wait is it Web 3.0 already?) is her thing. She is enjoying the rapid innovation that is changing her highly connected lifestyle into "connected without borders."
All company and product names appearing in the ARM Blogs are trademarks and/or registered trademarks of ARM Limited per ARM's official trademark list. All other product or service names mentioned herein are the trademarks of their respective owners.
0 Comments On This Entry
Please log in above to add a comment or register for an account